"A young, cool and innovative law firm where you can learn a lot."
Inside PXR 10.11.2022
Philipp was an intern at PXR from August to October 2022. Here he describes his experiences. His conclusion: The special corporate culture is not just a claim, it is actually lived. To what extent? Read for yourself.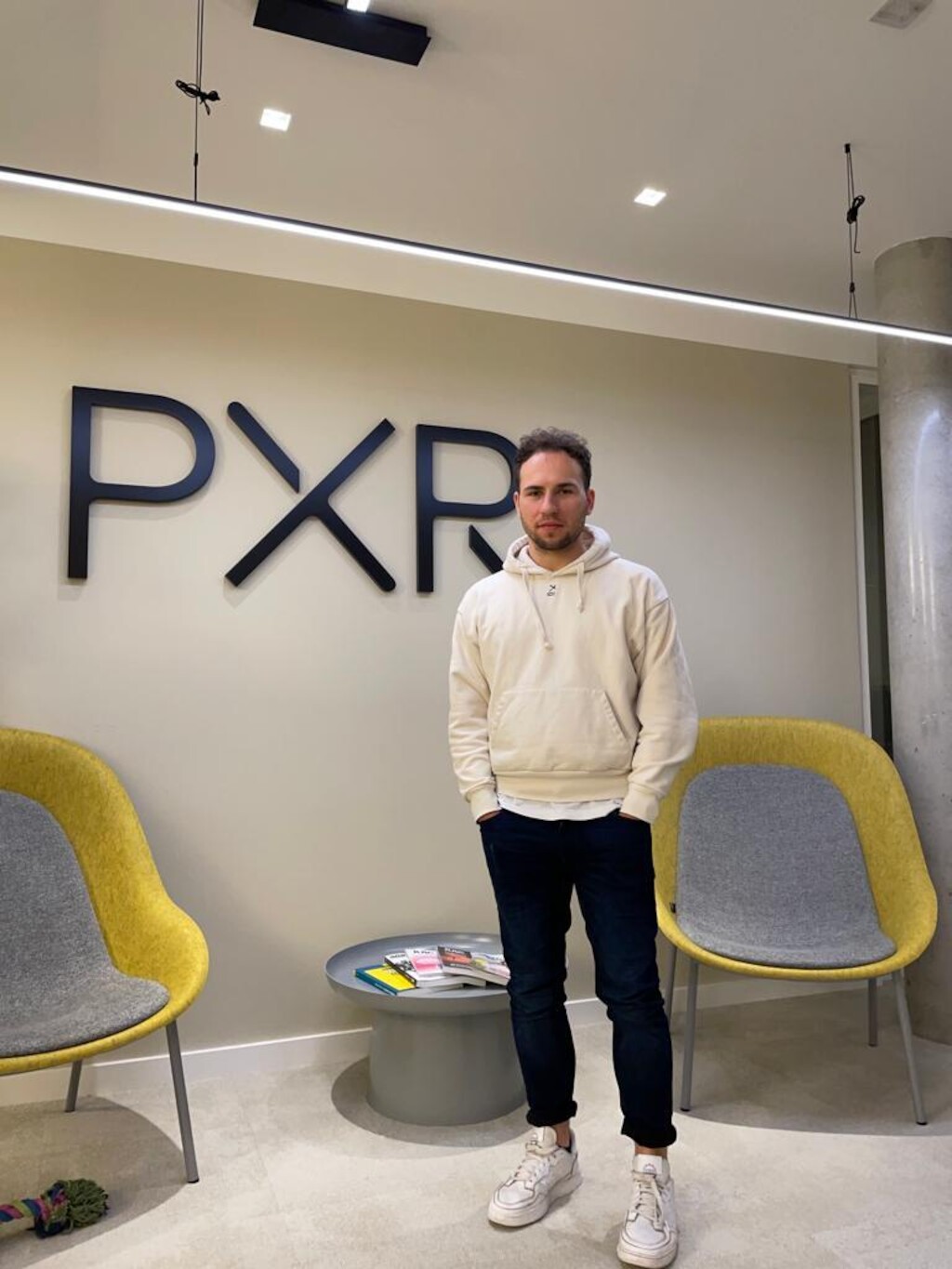 It's a Monday in August, about a quarter to 10, when my internship at PXR in Berlin starts. Everything is new, everything is super exciting, my anticipation is enormous. So far I've only known two, maybe three employees. On Mondays there is a lot going on in the office. After the obligatory visit to the coffee machine, I went straight to the "confi" at 10 am for the weekly check-in with all my colleagues. At the check-in, current mandates and upcoming to-dos for the week ahead are usually discussed and distributed.
The first half hour was filled with quite a few foreign terms - especially "convertible loan agreement" and "warrant agreement" were heard again and again. There was probably also talk about various investment agreements and closings. At this point, I mainly had no idea what any of this was or what it was all about. I hadn't yet had many points of contact with the start-up world, except perhaps via "Die Höhle der Löwen". However, that quickly changed in the following weeks.
Direct insight into the work of a lawyer
But so far, so good. One of my first tasks was directly related to arbitration proceedings. First of all, I had to sort through the previous correspondence and documents relating to this case. In fact, this was the only really clichéd "internship task". In addition to my own expert opinion on social law (yes, this was new territory not only for me), I was also allowed to support the digitisation of legal documents. However, that was only the beginning: In the course of my two-month internship, I was allowed to
draft shareholder resolutions,
check shareholder lists on the basis of extracts from the commercial register,
review the content and form of various ESOP agreements,
work on warrant agreements
and much more.
Ongoing training, joint events
My personal highlight was the onboarding every Tuesday at 9 a.m.: Here we went through the different sections of an ESOP (Equity Share Option Plan) together. I found it extremely valuable that time was taken for substantive onboarding, but I could also really ask any question about the ESOP at any time.

The first Meet & Cook event was also a lot of fun. We spent an evening cooking, eating and getting to know each other. I also remember the afternoon when I had to spontaneously drive across Berlin to get urgent signatures for an upcoming notary appointment.
Special team, no traditional hierarchies and an appreciative working environment
Overall, the team and the atmosphere in the office were the best - both contributed significantly to this great time. Everyone was super nice and open, the lawyers always took the time to answer questions or discuss needs and were always approachable, also with regard to personal issues. Especially Theresa and Niko, who lovingly look after the interns and trainees at PXR, are always open for feedback.
"The communication and interactions were always on an equal footing."
I found the interaction with and among each other to be very appreciative: No one gave me the feeling that I was "just" an intern. Rather, the communication and interactions were always on an equal footing and there was enough room for me to contribute my own thoughts and ideas to the ongoing work of the mandate. I was often asked for my opinion.
Especially in this respect, it was noticeable that there are no traditional hierarchical structures and that this is more than just a claim, but is also lived out in practice. There was the possibility to work on everything and everyone does their part to make this possible. Of course, one's own initiative is needed here, but the entire environment supports this and makes it possible in the first place. In this way, you also have your own scope for shaping your own internship: there is no predefined programme. Instead, you are involved where your own individual interests lie.
Conclusion: Highly recommended!
After my internship at PXR, I not only got a really good, comprehensive overview of full-service legal advice to tech start-ups, but also learned a lot about venture capital. It was fascinating to experience how it can work in a next-generation law firm. PXR is really special and unique in my view.
"The legal challenges of tech start-ups are understood here first-hand."
This is not least due to the value-based approach, which is also really lived and continuously worked on. Innovation is also an important theme here, which you can see not least in the close ties with GAIA Technologies. The legal challenges of tech start-ups are understood here first-hand.